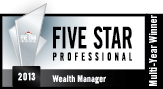 Helpful Content
The average retirement lasts for 18 years. Are you prepared to fill that many days?
For some, the social impact of investing is just as important as the return, perhaps more important.
The chances of an IRS audit aren't that high. And being audited does not necessarily imply that the IRS suspects wrongdoing.