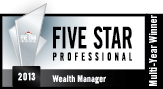 Helpful Content
Whole life insurance remains in force as long as you remain current with premiums. Here's how it works.
For some, the social impact of investing is just as important as the return, perhaps more important.
Important as it is, Medicare does not cover the full range of health-care expenses you may experience in your golden years.