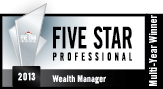 Helpful Content
Is your estate in order? This short quiz may help you assess your overall strategy.
If your family relies on your income, it's critical to know what their needs would be in the event of your death.
You face a risk for which the market does not compensate you, that can not be easily reduced through diversification.