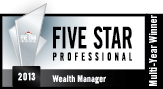 Helpful Content
Choosing to bear the financial burden of an adverse event is called self-insuring. Do you know what that entails?
It's important to understand how inflation is reported and how it can affect investments.
Whole life insurance remains in force as long as you remain current with premiums. Here's how it works.