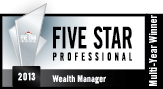 Helpful Content
Estate tax exemptions rules appear to be stabilizing, prompting many to reconsider conventional estate strategies.
We all know the stock market can be unpredictable. We all want to know, "What's next for the financial markets?"
Irrevocable life insurance trusts can be important tools that may accomplish a number of estate objectives.